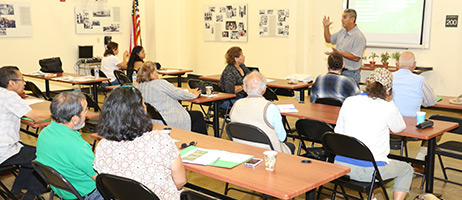 Learn ways to reduce water use in landscapes by taking online classes or in person.
For questions on the California Friendly℠ Landscape Training (CFLT) program, please contact Jennifer Imel, (213) 217-6244.
Click here to view the California Friendly℠ Maintenance Guide.
Register for a residential turf removal class.

TAKING A CLASS ONLINE
FIND CLASSES TO ATTEND IN YOUR AREA
The Metropolitan Water District and our member agencies are currently offering California Friendly Landscape Training classes. Please contact your local water agency for information about classes that may be available in your area. This search finds water providers in Metropolitan Water District's service area only.
Enter your Zip Code:
Please enter a valid zip code.