What is the Innovative Conservation Program?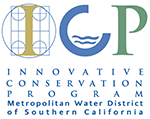 Metropolitan's Innovative Conservation Program (ICP) provides funding in cooperation with the U.S. Bureau of Reclamation (USBR), Environmental Protection Agency (EPA), Southern Nevada Water Authority (SNWA), the Central Arizona Project (CAP), the Southern California Gas Company (SoCalGas) and Western Resource Advocates for research that will document water savings and reliability of innovative water savings devices.
The objective is to evaluate the water saving potential and reliability of innovative water saving devices, technologies, and strategies.
Timeframe for New Proposals
The RFP (Request for proposals) for the 2015 ICP has closed. The next round of ICP is expected to launch in 2018 and is subject to funding availability.
ICP Projects
View examples of past project reports
Contact ICP
For additional information, contact: